As part of my big "Employee Shopping Days" splurge, as I mentioned in an earlier post, I bought two handsome volumes of reissued George Orwell essays.  
Facing Unpleasant Facts: Narrative Essay
s and
All Art Is Propaganda: Critical Essays
.  In the latter, the very first essay is "Charles Dickens," originally published, in book form anyway, in a collection called
Inside the Whale & Other Essays
, in 1940.  
The last time I bought a collection of Orwell's essays, just a few years back, it was in an
Everyman's Library edition
, in one volume, nearly three inches thick!  I still own it, for reference I suppose, but it is a 
ridiculous object; cumbersome, impossible to carry on the bus, heavy on the chest when reading in bed.  (Now there's a good subject for an essay: American-made books and their resemblance to American-made cars, i.e. the SUVs of classic literature.  Another day perhaps.)
Despite already having done one Dickens reading at the store, on his birthday in February, this year, and having done a good deal of research for that, for whatever reason, I never read the Orwell essay on Dickens.  I know I started it, but I never read it.  With the more attractive and  practical volume from Harcourt, Inc., now on my nightstand, and a reading of Dickens' "The Chimes" coming up on December 9th, I have done at last.  I'm ashamed I never did before now.  I can recommend it as one of the best things I've ever read about Dickens.
By 1940, Orwell had already seen the grim effect of orthodoxy on the socialism he uses to critique Dickens' liberalism, and Orwell's critique is no less justified or interesting because of the failure of certain premises still assumed in the essay.  And just when I'd grown impatient with Orwell and his jabs at Dickens for failing, among other things, to write realistically about agricultural workers (!), Orwell starts the fifth section of his essay with the following line: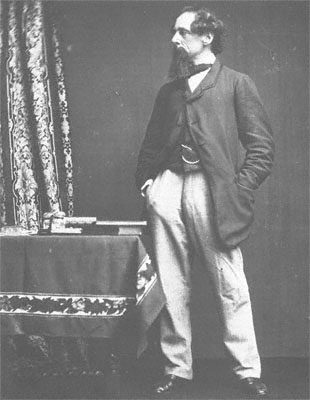 "By this time anyone who is a lover of Dickens, and who has read as far as this, will probably be angry with me."
Now what is not to like about a critic capable of that line?  Moreover, Orwell goes on to write one of the best appreciations of Dickens' genius I've ever read; cogent, concise, and very cleverly written.
If for no other reason, I will be always grateful to Orwell for providing me with the perfect phrase summarizing the true nature of Dickens personality.   Particularly, though without specific mention of it in the essay, the Dickens of 1844, when he wrote the story that I will be reading at the store: the Great Man was, as Orwell says, "generously angry."  Perfectly said.  Perfectly true.