And the Lincoln Bargain Books keep coming! Two delightful kids' titles from DK: Abraham Lincoln: A
Photographic Story of a Life, by Tanya Lee Stone, $2.98, and Abraham Lincoln & the Civil
War: Ultimate Sticker Book, $2.98.
Manhunt: The 12 Day Chase for Abraham Lincoln's Killer, by James L. Swanson,
in hardcover, for only $7.98!
The Trials of Mrs. Lincoln, by Samuel A. Schreiner, in paperback for only $4.98.
One Man Great Enough: Abraham Lincoln's Road to Civil
War, by John C. Waugh, $7.98.
Lincoln and Douglas: The Debates That Defined America, by Allen C. Guelzo -- two time winner of The Lincoln Prize -- $7.98, in hardcover.
The Lincolns in the White House, by Jerrold M. Packard, in paperback for only $5.98.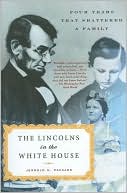 Again, just a reminder on remainders: these books are available for only a limited time, so if you want to get copies at these prices, you need to get in quick before they're all gone.
We'll see more Lincoln Bargain Books soon, but don't wait or these won't be here when you come in.